How do I use the Blackboard Attendance tool?
About
The Attendance tool allows instructors to manually record whether a student is present, late, absent or excluded for each 'class meeting' or session. An attendance record for each student appears in a single grade column in the Grade Centre, and can be used as part of calculating grades (e.g. include in a weighted column). Students can view their attendance score and record of attendance in My Grades.
Important: The Attendance Tool in Blackboard is different from the Attendance Recording functionality available through Jisc Data Explorer (Learning Analytics). 
Make the tool available
Step 1: Expand Control Panel > Site Tools > Customisation and select Tool Availability.
Step 2: Against Attendance, check the Available box. Click Submit.
Step 3: The Attendance tool will now appear in the list of Site Tools in Control Panel.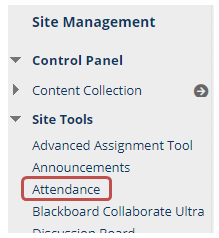 Configuration
The first time you access the Attendance tool in a site, a grade column is created in the Grade Centre. This grade column is immediately visible to students. You can control its visibility to students using the settings in Grade Centre. It cannot be deleted.
At the same time you are prompted to configure the grading settings. The Grade Schema uses:
a fixed value of 100% for Present
a fixed value of 0% for Absent
and a configurable value for Late (which is set at a default value of 50%)
You can choose to calculate and display attendance records using Points, Percentages or any other grading schema that has been previously created in that Blackboard site.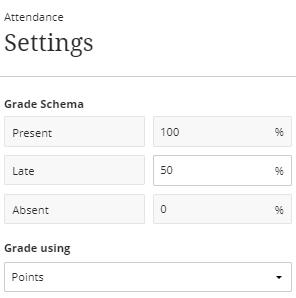 Please note: As the percentage value for Late can be configured and a choice of grading schemas be applied, students may experience inconsistences across Blackboard sites in the value awarded and the way in which it is displayed.
Marking Attendance
The Attendance tool has two views – a simple Meeting View and a detailed Overall View.
The Attendance tool launches at the Meeting View page with a default meeting of 'Today' (though you can scroll back to previous meetings) and a list of all students enrolled on that site. In this view the you mark each student's attendance by clicking in the appropriate status column against the student's name. 
Students marked Present are awarded 100%, those marked Absent receive 0%, and those marked Late receive 50% as the default or the adjusted percentage that you set.  Student marked as Excused are counted as Present for scoring purposes, and being marked as excused will not impact on a student's overall attendance. Not recording an attendance status does not appear to impact on their overall attendance.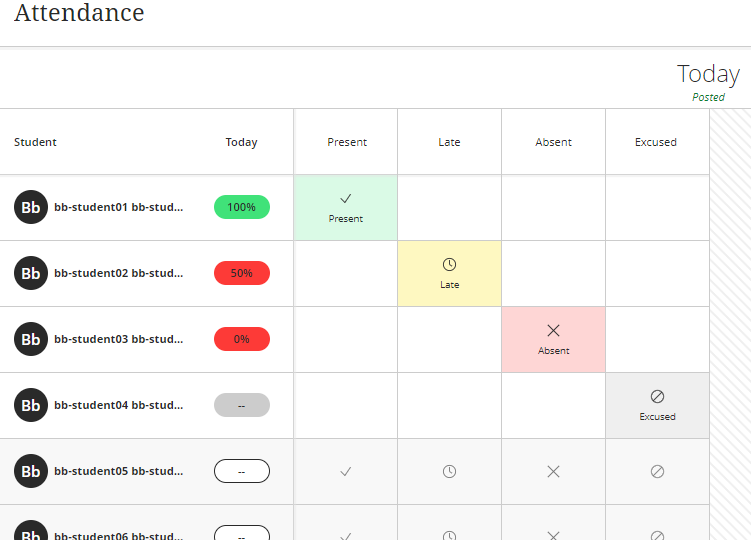 Summaries of an individual attendance record can be seen by clicking on the student's name.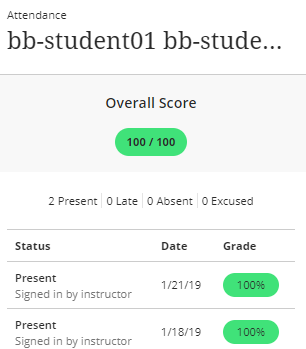 The Overall View provides a detailed view where instructors can also mark attendance and access attendance summaries for individual students. In addition, it provides a global view of a site's attendance, displays site summary statistics, allows additional meetings to be created (in addition to the default meeting of 'Today'), and the ability to export attendance data.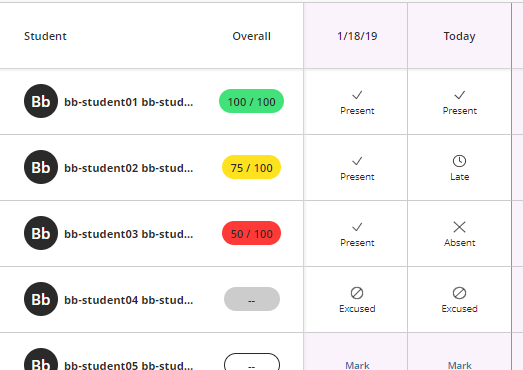 Site summary statistics include Average Attendance, the number and percentage of students with Perfect Attendance, the number and percentage of students with average or above average attendance, and the number and percentage of students with below average attendance.

If the Attendance grade column is available, students will be able to see their overall attendance score and a summary of their attendance record for that site via My Grades.
Considerations
Please be aware of the following when considering using the Attendance tool:
Students are listed alphabetically by last name, but in the format FirstName LastName. No other student information is given (e.g. student ID) which will make it difficult to differentiate between students enrolled on the site with the same first and last names.
There are no filtering or search options available. However you can use the browser's search tool to locate students in the list.
Each day you access the Attendance tool a new event is automatically created. If you access the Attendance tool several times on the same day, the same 'Today' meeting is seen.
When a new meeting is manually created, it is automatically titled 'Today'. This can be edited but only to display a different date. There are no options to name 'meetings' anything other than a date. If multiple meetings are created with the same date, it is not possible to easily distinguish between them.

Dates are currently displaying in MM/DD/YY format.
Individual students' attendance statuses display 'signed in by instructor'. There is no indication of the actual instructor enrolled on the site who recorded the attendance. However the Grade Centre History can be used should there be a need to query this.

If a student has only excused records or no records at all, the student's attendance is not included in the site summary statistics. The number of students listed for each statistic might not equal the total student count for the site.
The attendance score can be overwritten in Grade Centre, but will be recalculated again the next time an attendance status is recorded.
Meeting view is the only view that appears on tablets and small devices. 
You may also be interested in: